Recruiting the Right Way
BMC Recruitment Group in Newcastle is a firm with a strong set of beliefs. They find the right person for the right role, and pride themselves on doing all they can personally and professionally to ensure they're doing recruitment the right way.
It's not simply a case of feeding data into a computer and matching job requirements to a CV. The applicant needs to be the best version of themselves to do any role the justice it deserves, and to match the ethos of a company and thrive workplace atmosphere. Square pegs in square holes. BMC are simply excellent at what they do, and their client list reads like a who's who of business...names like Taylor Wimpey, Deloitte, Procter & Gamble, Arriva, PWC, Kier, the NHS etc.
But what about the person who is actually sorting out the recruitment in the first place?
Working for a recruitment agency is infamously stressful. You're trying to enhance an individual's career as well as improve a client's business with the best employee they could possibly find. Someone who knows all about stress and mental wellbeing is BMC Recruitment's Operations Director, Andrew Gibbison.
Andrew openly admits that he has had mental health issues in the past, but he's also taken the huge step of being very public about it. He now devotes his spare time to doing his utmost to help other people who might be struggling in private. "It's so important that we break down the stigma around mental health," said Andrew. "Let's face it, suicide is still high up on the 'stigma' list. I wanted to kill myself and tried twice. However, I soon realised through taking therapy, support at home and other regular things I could look forward to such as time with loved ones and playing basketball, that life is worth living and the black clouds hovering over you do clear, making way for brighter days." Andrew is now a champion for the Mental Health in Recruitment organisation. Their aim is to 'remove discrimination and normalise conversations and action around mental health in the industry.' The hope is that recruitment firms incorporate mental wellness into their strategy.
"If you're an employer, it's important to invest in training around those issues. Let's encourage conversation and proactive behaviour so we can improve the lives of those suffering inwardly," adds Andrew. BMC are practicing what they preach, too. In ensuring they provide a safe and valid space for conversations about the mental health of their consultants, they're also passionate about raising these topics and advising their clients the same. Slowly but surely, they're advocating a clear message that stress manifests itself in ways as individual as each employee. They as a company recognise that 2020 has been a pivotal time to take care of those looking for a new job. A lot of applicants have simply found themselves in need of work, and the repercussions of being made redundant are financial difficulties.
In his Operational Director role with the recruitment agency, Andrew was quick to recognise that stress and anxiety could be quick to build up throughout the interview process. 'We knew that could seriously affect how an applicant might perform. BMC's hope is that our approach to business will encourage employers to be aware of this climate, and continue to take it into consideration.' Andrew is also heavily involved in podcasts and writing articles. He has a firm belief that any platform he or BMC's consultants build should be used not only for the benefit of the business, but for the benefit of anyone looking to invest in their services. 'We're lucky enough to be an agency who always want to go the extra mile – we don't feel pressured to, it's just something we all inherently want to offer. The recruitment process for us starts with what is best for the candidate to ensure they aren't exposed to professional burn out, and they aren't taking a role for the wrong reasons.'
Andrew and BMC believe that the more you have both your client's and candidate's best interests at heart, the more everyone can start trusting the recruitment process again. He adds 'We've seen recruitment in our sectors: Construction, Finance, Executive and Tech were too focussed on hitting numbers and not on the livelihoods of the people we spoke to. All businesses need to make money, but the retention of staff who feel able to integrate their mental and physical health with their career is priceless. Once we took the time to understand pain points of clients who didn't understand why staff were leaving, and job seekers who were too scared to speak up about their issues, we found the perfect balance that made our team as strong as it is now. We're really proud of what we do.'
Andrew is currently promoting mental health website Qwel (quel.co) – "Netflix content meets Peloton's fitness for your mind" He adds "At Qwel we don't consider ourselves a solution to your problems – we want to help you find the right advice for you, which mirrors what we do at BMC. There are too many businesses claiming to have all solutions for all issues, and the same can be said for mental health outlets. It simply isn't one size fits all. We feel this is irresponsible since there isn't one way to work through your issues. If you wanted to change our physical health you address factors affecting it. Mental health is the same.'
BMC have taken the past few months to, literally, get their head in the game. Once Andrew addressed and ensured each consultant understood the trials, tribulations and celebrations of their industries, they could continue to move forward in the best way. The best jobs for the best people at the best time – for job seekers and employers alike.
Author: Andrew Gibbison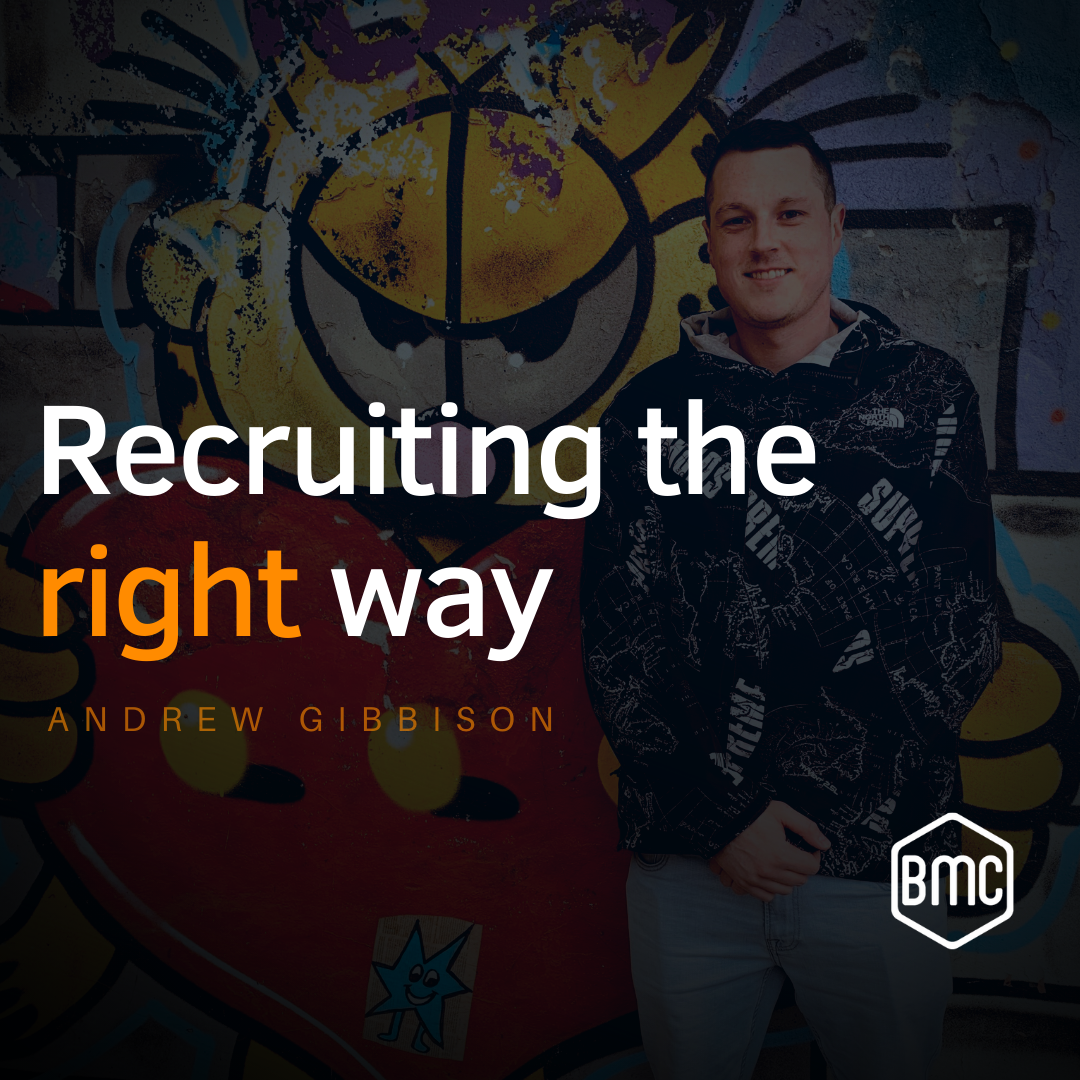 Share with a friend